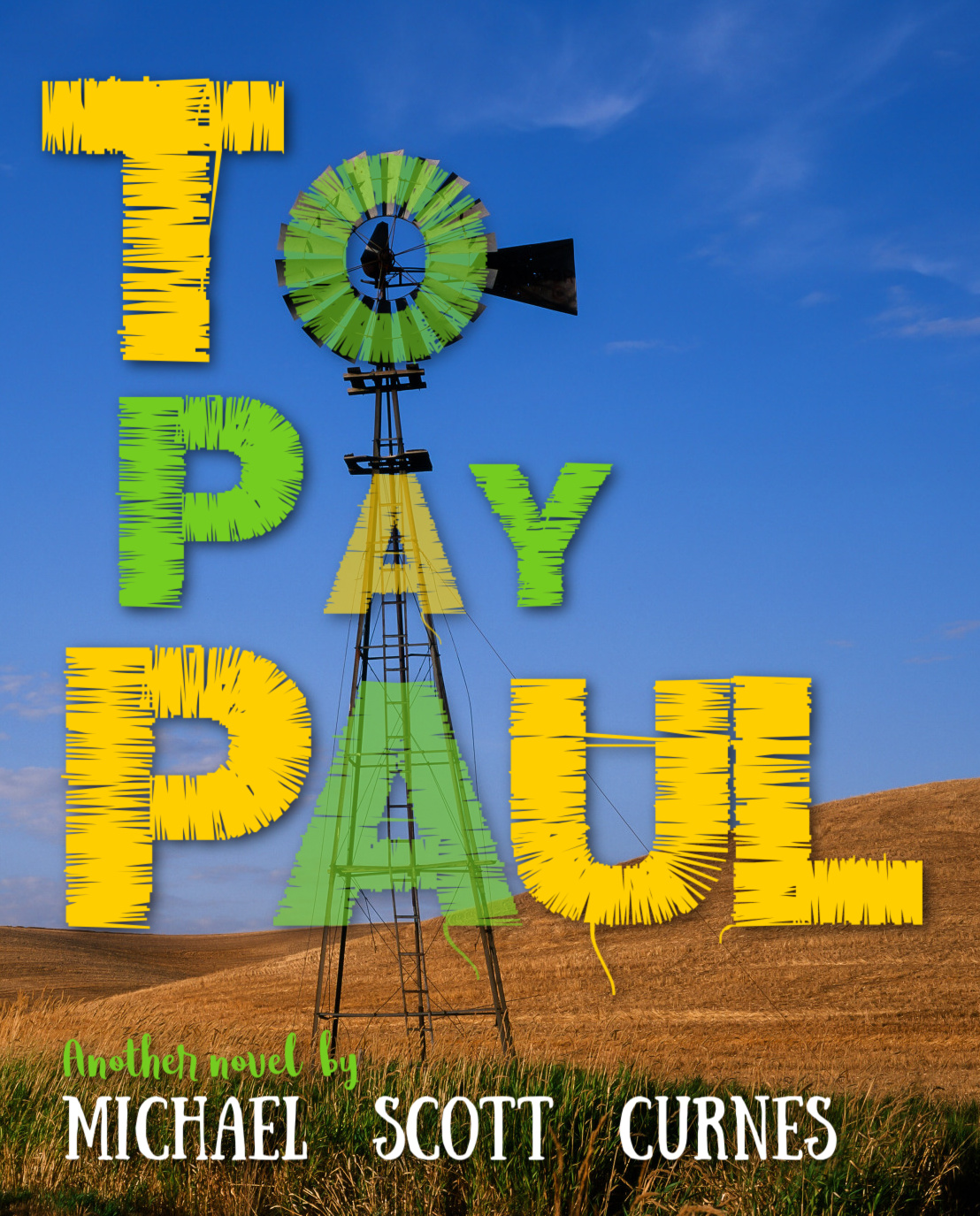 (Releases Summer 2022)

A geophysicist and a structural engineer fall into a whistle-blowing opportunity that will alter the landscape & either jeopardize or save the lives of thousands. To Pay Paul is guaranteed to blow the whistle and sound alarm bells throughout the Pacific Northwest heralding the coming environmental catastrophe that can no longer be prevented.

Down Wind Press
Book Trailer
This will mark the fifth fiction novel by Michael Scott Curnes, published by Down Wind Press, with a Summer 2022 release date.  
From the Back Cover:
You know you're robbing Peter, right?
Seamus Quinlan knew he overused the cliché . . . or was it an idiom? With all his university degrees you'd think he'd know the difference, but since turning 56, he worries that names and words and concepts are beginning to randomly drop out of his cranium. With the loss of his Pops, the last blood relative in six generations of Quinlans to succumb to their cancers, and after each of them had tried farming this barren land, Seamus fears it will soon fall to him to make something of the family's 140 acres in eastern Washington State.
But Seamus is no farmer. He is a geophysicist with a problem neighbor that happens to also be his employer. The Manhattan Project's once top secret and sprawling Hanford Nuclear Site is still one of the largest and most toxic radioactive waste contaminated clean-up projects underway anywhere on the planet. For the past twenty-seven years, it has been Seamus' job to monitor the site's ground stability and issue risk assessments in a region already geologically riddled by ancient basalt lava flows, catastrophic Ice-Age floods and regular seismic hijinks.
When Seamus begins to notice hydrological and geological anomalies around the farmhouse at the same time there is an unusual uptick in the frequency of earthquakes, he begins to believe he is about to witness ancient geological history repeating itself.
Michael Scott Curnes delivers another eco-thriller that more than reveals what lies beneath. An award-winning and five-time published novelist, the author counts himself lucky as a cancer-surviving "Downwinder" of the Hanford Nuclear Site. This latest novel is certain to blow the whistle and sound alarm bells throughout Cascadia, heralding a coming environmental calamity that may no longer be preventable. Curnes deftly takes an improbable Doomsday scenario and ushers it into the frightening realm of the entirely plausible.
Other novels by this author: Wicked Ninnish, Coping with Ash, For the Love of Mother, and VAL.
This novel collaboratively features the remarkable poetry of the late William Witherup from his "Men at Work" collection.
William Witherup
Poet, Playwright, and Activist
[Excerpted from an obituary originally published in The Seattle Times, June 11, 2009 and written by Armando Montaño]
William Witherup, a Seattle poet, playwright and activist, whose work focused on people who lived downwind of the Hanford nuclear reservation, racism, and technology, has died. He was 74.
William Witherup, a Seattle poet, playwright and activist, whose work focused on people who lived downwind of the Hanford nuclear reservation, racism, and technology, died June 3, 2009. He was 74.
In his book of poetry "Down Wind, Down River," Mr. Witherup memorialized downwinders and spoke out against the use of nuclear weapons and technology. He was also a member of the Hiroshima Peace Project, an anti-nuclear organization. Altogether, he was the author of 11 books of poetry and two plays.
Mr. Witherup died June 3 from complications of acute myeloid leukemia while in Seattle's veterans' hospital. He believed the illness that ultimately took his life was caused by living downwind of the Hanford Nuclear site, according to Frederick Nelson, his therapist, friend, and fellow artist.
Mr. Witherup was born March 24, 1935, in Kansas City, Mo., the eldest of four children. The family moved to Richland in 1944 where his father worked as an engineer at the Hanford nuclear facility.
Growing up, he was a tease, a younger sister remembered. Sandra Witherup described one of his pranks:
"He would hide underneath beds and [jump out and] scare us," she recalled. "He would also hide in the dark and jump out and scare us."
Mr. Witherup's pranks continued into his adult life.
He carried a fake cellphone in his pocket and would talk on it when he saw other people talking on their cellphones.
"Bill hated technology," his sister said. "He felt that technology does not enhance society but does the opposite."
In 1957, Mr. Witherup joined the Air force as a Russian translator, serving until 1959, she said.
"He wanted to join the Air force before the army drafted him." his sister recalled. After leaving the Air force, Mr. Witherup moved to San Francisco in 1960, and to Seattle in the '80s. Mr. Witherup began writing poetry about downwinders after his father died in 1983 of prostate cancer that had metastasized into a very painful bone cancer, which Mr. Witherup suspected, was caused by his father's work in the Hanford site. Mr. Witherup even dedicated his book of poetry "Black Ash, Orange Fire" to his father.
During his life, Mr. Witherup struggled with bipolar disorder, and because of it, he had trouble holding on to jobs, his sister said.
"He was crusty, angry, and a deep-feeling person, so he had trouble dealing with everyday things." she said. He quit a security job at the Seattle Art Museum, for example, because he didn't like using the earpieces to communicate with the other guards."
List of William Witherup's Poems used in this novel with the express permission of his family and estate, from his published book of poetry "Men at Work" [originally published by Ahsahta Press/Boise State University and copyrighted by Mr. Witherup in 1989]:
End of Chapter 1:   My Father Dying: 1984
End of Chapter 2:   Mervyn Clyde Witherup
End of Chapter 3:   Nuke City Ballad
End of Chapter 4:   Night Sky: Drake's View Ridge
End of Chapter 5:   Sir, If You Are, Sir
End of Chapter 6:   The Coming of Desire
End of Chapter 7:   Common Bill Visits Laird and Lady Randall at Their Country Estate
End of Chapter 8:   Egret: Bolinas Lagoon, 1986
End of Chapter 9:   Chama
End of Chapter 10: In Memory of Eve Randall
End of Chapter 11: Hanford: March 1987; Doing the Storm Windows; and Once By Hanford Reach
End of Chapter 12: Workman's Comp II
Available Summer 2022